HOMES THAT ARE BUILT TO LAST
Building a Cat Five Home with aluminum framing removes the headaches that come with owning a home near the coast. The beams that frame the house are engineered to withstand destructive natural occurrences, like hurricane force winds, but also offer additional benefits, including reduced insurance rates, energy efficiency, and a frame impervious to termite damage.
"As some insurers are choosing to no longer underwrite coverage along the waterways, and Washington has initiated measures calling for drastic increases in flood insurance, Cat Five Houses is offering an answer to coastal homeowners using collaboration, not competition, by working with architects to provide the foundation and framework for hurricane/earthquake/tornado resistant homes."
Want To Learn More?
Download our brochure about the RDS Tornado Shelter/Safe Room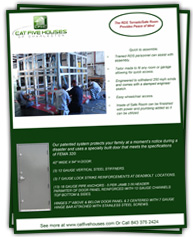 Read about how the RDS Tornado Shelter/Safe Room provides superior protection in the event of a tornado.
Built from the toughest hardware and materials, the RDS Tornado Shelter/Safe Room can withstand 250mph winds. It can also be finished with power and plumbing, ensuring a secure, yet comfortable, shelter.
Download Our Brochure!