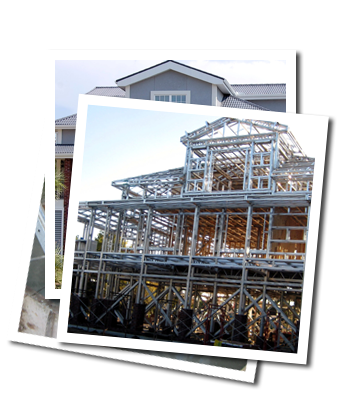 Cat Five Houses Custom Metal House Frames
Cat Five Houses of Charleston was founded in 2009 with an objective to improve the way houses are currently built. A Cat Five Home can be designed and built to almost any shape or size. The patented RDS aluminum frame is engineered to withstand category five winds and earthquakes up to eight on the Richter scale, while maintaining whatever architectural style is desired by the homeowner.
PATENTED ALUMINUM FRAME SYSTEM
Wood is inexpensive, but not the strongest building material and is susceptible to rotting, mold and termites, and is easily damaged by extreme conditions.
Steel is strong, but is susceptible to major corrosion problems, especially when used near salt water. It is heavy and often difficult to work with. Once bent, it stays bent.
Concrete is susceptible to cracking. This can cause water to penetrate into the walls and cause damage over time. It is not a flexible material and not easy to work with.
Aluminum in the form of our RDS patented beam is strong, lightweight and easy and quick to construct. Unlike steel, it has memory so when under pressure and bent out of shape it has the ability to return to its former shape once the pressure is removed. Unlike concrete and steel, it is flexible when needed.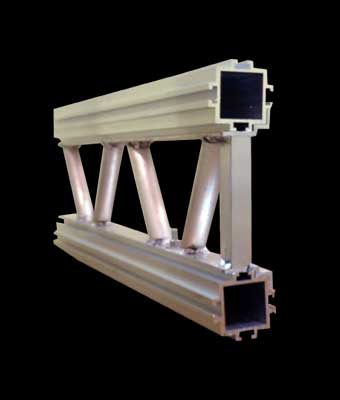 BENEFITS OF USING OUR ALUMINUM FRAME SYSTEM
Our mission is to offer everyone an alternative method of building homes and shelters that are visually pleasing, while designed and engineered to withstand extreme weather conditions.
The following are some benefits of using our patented RDS aluminum frame system instead of a traditional wood frame:
Engineered homes/shelters designed to withstand extreme weather
Low maintenance
Energy efficient
The potential for storm damage is minimized
Lower insurance rates
The frame is impervious to rot or termite damage
Reduced risk of fire
Peace of mind during storm season
SIMPLY A BETTER WAY TO BUILD
The RDS patented aluminum beam has proved itself in many applications since 1998.  RDS manufactures and markets state of the art temperature controlled engineered environmental enclosures across a broad spectrum of industry.  These systems are designed to be rapidly deployable and totally reconfigurable. RDS supplies tangible solutions for even the most difficult of challenges.
Building homes out of the RDS aluminum beam system is the next chapter for RDS.  These homes are engineered, built to last and come with many long term benefits and savings.  Our shelters/safe rooms can be installed in existing homes or can be integrated into a Cat Five home.
We plan to improve on current building methods by constructing engineered homes that are stronger, energy efficient, low maintenance and offer the homeowner lower insurance rates than traditionally built homes.  For those who live in volatile areas of the world that are under constant threat from either Hurricanes, Cyclones, Tornadoes, Earthquakes or Super Storms like Sandy that cause mass devastation, Cat Five Houses has engineered solutions.
The Cat Five method of construction is "Simply a Better Way to Build".